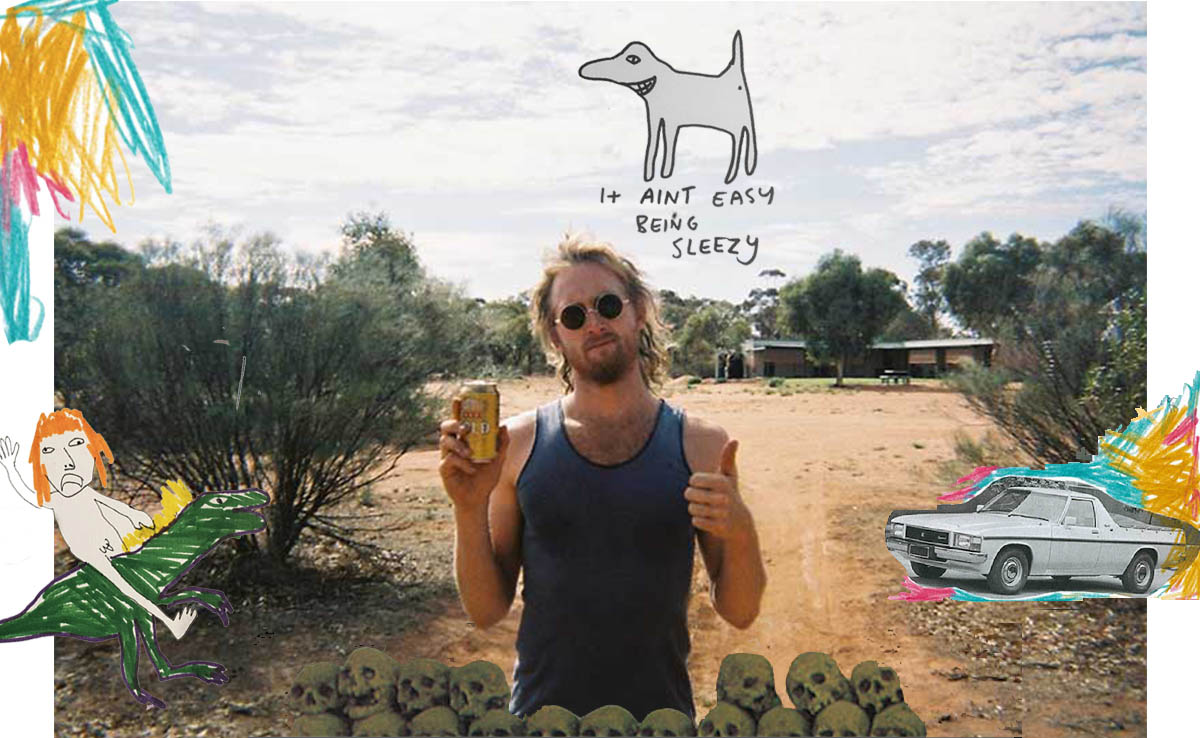 HEY….IT'S COOL GUY!
Rad Dan aka Daniel is an indecisive daydreamer, Art Director, Vinyl Disc jockey, doodler and man-child from Sydney. His personal style which can only be described as '1980s Aussie pub Chic' is as good as a Bunning's sausage sizzle and my god THEY. ARE. GOOD.
Turns out I have uncovered a family secret. Rad Dan and I have ALOT in common. We both enjoy sporting jeans and sneakers coz it's comfy, people stepping in dog poo makes us smile and we both have a lifelong love and respect for Ace Ventura – not to mention the fact that we both have strawberry blonde locks…it just can't be a coincidence #seperatedatbirth
Ok yes, I was guilty along with many in initially thinking that Rad Dan was just some cool, free spirited guy that floats around making crazy paintings and music…not someone with a full time job. WRONG MADELEINE YOU JUDGEMENTAL BITCH. I soon found out that this ironically rad human is practically a veteran in the fast fashion world kicking creative goals on the reg and currently the Art Director of General Pants…in the words of Ace Ventura aka god; "HOLY TESTICAL TUESDAYS."
Teacher: "What do you want to be when you grow up?"
Mini Rad Dan: "I don't want to be anything."
Rad Dans free spirit, creative soul, ability to live life without expectations and basically just being a human and practical, has allowed everything to come together and more.
Creative boss man by day, Vinyl disc jockey by night allowing him to explore his theory that the truth is never told during the nine-to-five hours.
"Never forget what someone says to you drunk, because drunk words are sober thoughts" – some Alcoholic.
This Music, Art and burnt yellow loving guy emits 54739470005750384770000 of AUTHENTIKNESS. He's talented, humble, and simply downright stoked on life to be creating only the things he loves. Dan lives each day with childlike surrender and trust and is so far down to earth that he's practically in china. #shouldhavebeenacomedian
What is that funky tune you hear? Well funny you asked. On top of capturing his world on a disposable camera, Rad Dan went into creative overdrive and made us an exclusive AUTHENTIK vinyl mix tape. Entitled 'DWEET SREAMS', say bumblebee tuna to good times and great classic hits hotter than 'So Fresh Hits of Summer 2001' prescribed to help us keep it real, chill the ef out, not hate, be weird and daydream because "Dweet Sreams" are made of this. Who am I to disagree?
The colourful vibes of RAD DAN will transport you to your childhood dreams like back to the future…so with that said crack open some XXXX GOLD, treat your ears and feast your eyes.
Alllllllll-righty then.
Cheers Dan, it's been real.
Regards, The Monopoly guy.