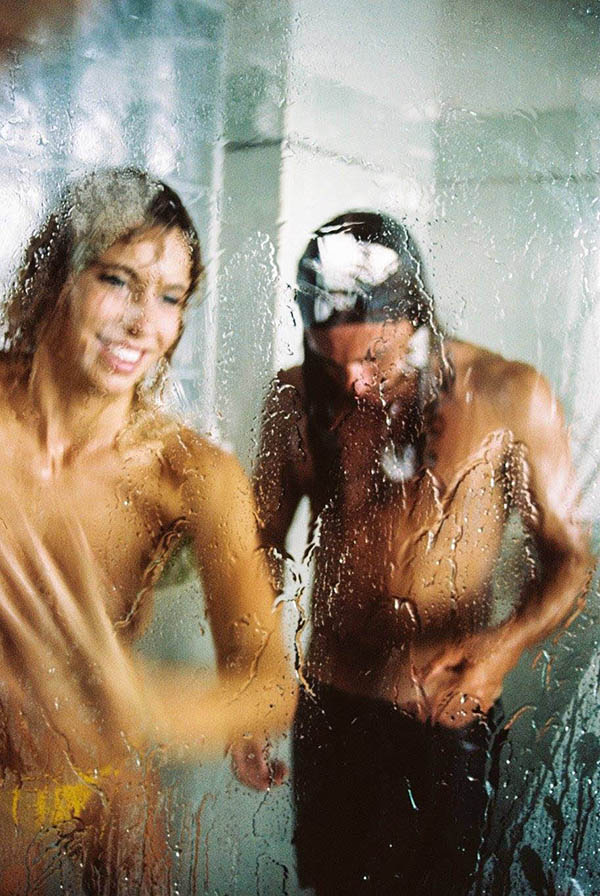 Ok, so I'm sure you have laid your envious green eyes on outta this world photo collection capturing the blissful, magical, dream-like, heavenly, delicious, holy (and every other ridiculously good adjective under the sun) travel moments of Madeline Joy Relph and Jourdan Bowen, and yes you probably thought to yourself 'kill me now"… yep, I hear ya. However, when you meet these two wandering souls in person, ok lets be honest, I'm afraid it doesn't get much better as they themselves are just as picturesque, dreamy and colourful as their travel imagery #yepkillmenow
Madeline aka Maggot is an easy going, carefree goof ball who radiates nothing but pure joy (coincidentally her second name), love and BEAUTY. She is practically a human ray of sunshine. Maddy grew up on Sydney's Northern Beaches before relocating to Adelaide with her family where at the tender age of 12, she met Jourdan – a self confessed socially awkward hermit who spent most of his juvenile life in speedo's travelling around Australia in a troop carrier. For some reason I just pictured a hermit crab wearing speedos…god help me.
These two down to earth and ridiculously good looking (did I mention that?) Primary School sweet hearts decided to burst through the Western bubble together into a colourful, cultural playground full of unimaginable beauty, and, with their creative eyes and combined talents; Jourdan with Photography and Maddy with, well just look at her!..they have managed to squeeze me, as well as over 100 thousand others into their suitcases and taken us along for the ride…well at least it feels that way anyway…I won't let you tell me otherwise…man I need a holiday.
With so much time spent travelling around the globe, when asked separately "where is HOME?" Maddy and Jourdan both responded with "home is with each other"…talk about #couplegoals However, with so many beautiful shots of their travels, I was intrigued and found myself wondering…where do they actually live live? Like you know, when they are not being barefooted Gypsy's. Travel does not exist without home…
After reconnecting with Maddy (a former counter part who I used to get up to mischief with back in the day lol) I soon discovered after some serious concentration trying not to get too lost in her sparkly turquoise eyes, that nestled in the heart of Sydney's Northern Beaches Coastline, a quaint, neat little flat provides rest and comfort for these weary eyed travellers in-between adventures.
Filled with bohemian rugs and treasures from all over, Maddy and Jourdan are surrounded by travel reminders so they never feel too far away from the action. Raw, natural elements like timber and leather add warmth to their space, and this combined with loads of lush green exotic plants certainly brings the outdoors in.
Jourdan has hand made many key pieces in their home including the beautiful rustic bed made out of branches collected from local bush land as well as painting the epic black and white tribal looking artwork hanging on their bedroom wall. Hello Jourdan, you're welcome to decorate my home any day…speedos preferable; ok yuk Madeleine, you're a mum, no more inappropriate jokes, promise.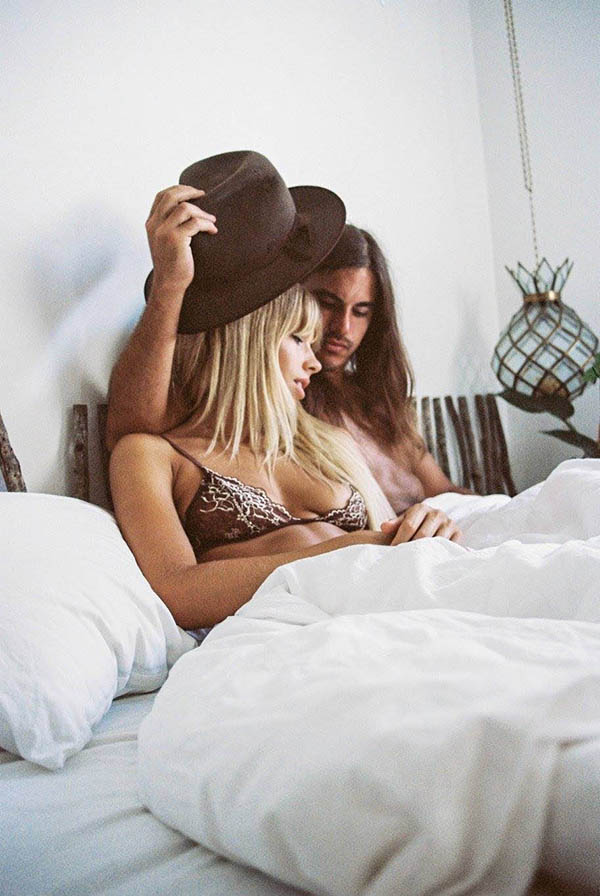 Although they do make a very compatible travel duo always looking out for each other, Madeline shares my frustration in having a partner who has the unfortunate talent of being able to fall asleep ANYWHERE, ANYTIME…literally…all you have to do it go back and read my birth story and you'll see what we are dealing with.
When they're not in far away lands being captivated by people's stories from all walks of life or arm wrestling with weird Turkish men, Maddy and Jourdan's days at home are spent eating fruit in bed, listening to music, frolicking with Taff the dog, burning incense, getting in the water, baking and forever cuddling.
These two grammatically challenged yet creatively gifted, bright spirits spend their days adventuring through life together with open hearts and open minds; keep'n it real by always striving for happiness within themselves and appreciating what they have.
They aim to inspire others to get out there, see the world and just LIVE, and although I can't stand oysters, I'm feelin the overpowering urge to chant that overly used, cliché and some what senile saying 'THE WORLD IS YOUR OYSTER!' (note to self: think of a more relevant / inspiring quote NOT involving oysters for future reference.)
ATTENTION AUTHENTIK PASSENGERS, unbuckle your seatbelts as you have arrived at your destination; Madeline and Jourdan's home away from…well, home.
"No one realizes how beautiful it is to travel until he comes home and rests his head on his old, familiar pillow…" Lin Yutang.
WORDS   Madeleine Chard, Founder / Curator – THE AUTHENTIK