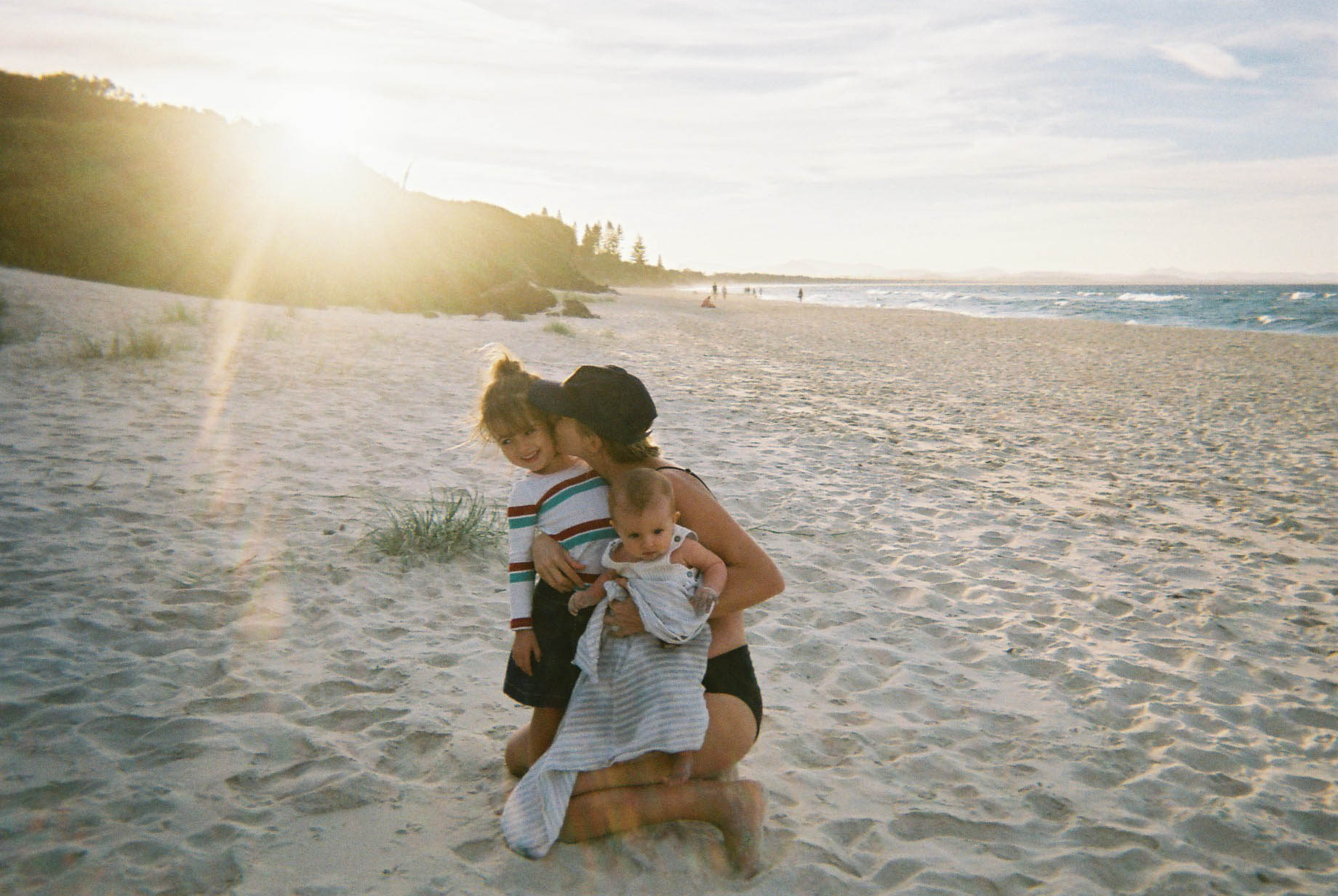 What better way to kick off our DISPOSABLE DIARIES series than with none other than effortlessly cool Photographer and mother of two Amelia Fullarton, professional capturer of life's most real and AUTHENTIK moments. For Amelia, clicking down on the shutter release is instead, like pressing the pause button.
This family of adorable A's – Al, Arlo, Agnes and Amelia, live a simple, relaxed and happy life on the land by the sea in beautiful Byron Bay. After falling in love, and soon after falling pregnant, Amelia's  passion for photography was ignited following the birth of her first daughter (um HELLO soul sistah.)
You could say it's fate that I stumbled upon Amelia's Instagram page while pregnant with my daughter…or you could say it was the opposite of fate due to the fact that I spent countless hours stalking the shit out of randoms accounts prior to striking gold – come on, sometimes you have to be the creator of your own destiny, and don't look at me like that, we all do it. In the whirlwind of this fast paced, digital world, furiously clicking from one image to the next – when I eventually landed on Amelia's account, a rare thing happened, I myself paused.
The beautiful, honest images capturing her life and motherhood spoke to me. They stirred an excitement in me about the next chapter of my life, and the prospect of like Amelia, experiencing so many precious family moments.
A wave of nostalgia came over me while flicking through Amelia's photographs. I have always possessed an unhealthy obsession with family photos and videos from my childhood, so for me it was like physically turning through the pages of her beautifully curated family photo album, oozing light and warmth, bringing real moments to life, reminding all of what matters most – the little things, the un candid moments, the people you love. Time seemed to slow right down, I felt as though I could breathe again.
Despite her large family of followers, Amelia is unlike the rest. She is not about the 'stuff.' She does her own thing. She keeps it real and that's what we love about her.
Shooting on a Disposable Camera is synonymous to Amelia's style. With only one shot to get it right, you pause to really think about what you're capturing, you slow right down and it's more personal and emotional rather than purely about nailing the technical stuff. Like Amelia's photography, Disposable images are raw, real and full of character.
Through the lens of a Disposable film camera,  Amelia did what she does best – captured her world – the light, the love and all things AUTHENTIK to her, on just one one roll of film.
Pause, rewind and relive.